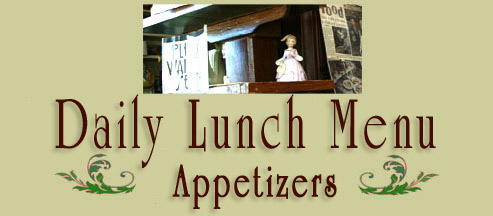 HUMUS 3.00
Ground chickpeas blended w/tahini, garlic, lemon and salt

BABA GHANOUJ 4.50
Baked eggplant blended w/lemon, garlic, tahini and salt.

HALF AND HALF 4.50
Half humus and half baba.

FOUL MUDAMMAS 4.00
Fava beans in tahini and lemon.



TABULI
Parsley, cracked wheat, onion, lemon, tomato, oil and spices.
small: 5.50 large: 9.00
SESAME SEED SALAD
Lettuce, tomato, parsley, feta, and seeds.
small 5.95 large 8.75





FALAFEL 3.75
Chickpeas, fava beans, garlic, parsley and secret spices with tahini.

KIBBEE 4.50
Ground lamb, cracked wheat and salt; deep fried

KAFTA 4.50
Ground lamb, onion, parsley and secret spices; char-broiled.

SHISH KABOB 4.75
Tender lamb: char broiled.

CHICKEN KABOB 4.75
Grilled chicken with tahini.

..all sandwiches are served with lettuce, tomato, onion and parsley
in a bakery fresh pocket bread.

See Sandwiches for definitions

FALAFEL - 7.95

KIBBEE - 8.95

KAFTA 8.95

SHISH KABOB 8.75
Grilled with peppers, onions and squash.

VEGETARIAN COMBINATION 9.95
Falafel, salad, humus and tabuli.

COMBINATION WITH MEAT 8.95
Kafta, kibbee, salad and humus.

Plates are served with salad only at lunch; choice of brown rice
or salad at dinner.



Feta Cheese 1.50
Cheddar Cheese1.75


Side of Tahini 1.50

Tabuli instead of salad 2.50
Side of grilled chicken 3.25

Herbal Tea
Fountain Soda
Natural Blue Sky Soda
Natural Juice
Poland Springs Selzer
Milk
Coffee / Tea
Cappuccino
Espresso