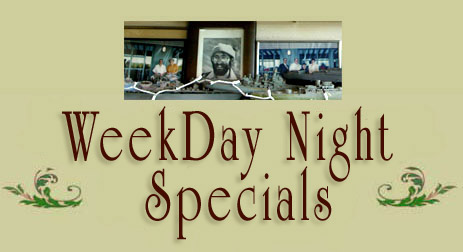 Seasonal Specials can be subject to change
W
ant to see what the tasty dish looks like.
Click on the camera next to the item.
.........Served with rice and salad.........

CHICKEN MEXICALI 15.95
Boneless chicken breast sautéed in soy oil wth garlic, mushrooms, and a Mexican hot salsa, topped with cheddar cheese and sour cream.
STUFFED MUSHROOMS 5.95
Mushrooms caps stuffed with spinach, almonds and romano cheese,
baked with mozzarella cheese.

RAINBOW TROUT ALMONDINE 15.95
Boneless trout sauteed in butter with fresh dill, almonds, mushrooms
and fresh lemon juice.



SALMON CARCIOFI 17.95
Salmon sauteed in butter with roasted peppers, artichoke hearts, and
asparagus.



SHISH KABOB 13.95
Chunks of leg of lamb w/ peppers and onions: char broiled.



MEAT COMBINATION 13.95
Falafel, salad, humus and tabuli.



SESAME SEED MAHI 17.95
Mahi is a mild fish, coated with sesame seeds and sauteed
with stringbeans or snow peas, herbs and spices
coverd with a lemon butter sauce.

GRILLED SWORDFISH 18.95
Swordfish marinated in a zesty combination of lemon juice, garlic,
onion and grilled, topped with a butter, garlic, lemon sauce and
served with a vegetable.


GRILLED SALMON 17.95
Lightly herbed salmon, served with a side
of steamed vegatables.

BAKED STUFFED KIBBEE 17.95
Cracked wheat and lean ground lamb mixed together and
stuffed with pine nuts, onions and spices, then baked with olive oil.

CHICKEN MARSALA 15.95
Boneless chicken sauteed in butter and garlic, with mushrooms,
Marsal wine, and topped with Mozzarella cheese.
GNIOCCHI 14.95
Potato pasta sauteed in butter with snow pea, tomatoes and
herbs, & a pinch of romano cheese.
EGGPLANT LASAGNA 15.95
Eggplant lightly breaded and layered with ricotta & mozzarella
cheese and a vegetable, covered with a rich tomato sauce.
CANNELLONI CARCIOFI 14.95
A delicate crepe shell filled with a mixture of artichokes,
onions and ricotta cheese & topped with a tomato sauce romano
cheese and pine nuts.
SALMON DOONAN 17.95
Salmon sauteed in butter with fresh dill , onions, snowpeas,
carrots and sweet pepper over fettucini
CHICKEN PORTABELLA 15.95
Chicken sauteed in butter with aromatic Portabella mushrooms,
spices, herbs and raddichio & leeks.
GRILLED TROUT 17.95
Rainbow trout lightly coverd with herbs then grilled, served with vegetables.
CHICKEN VAN GOGH 15.95
(Blue Period) - Chicken sauteed in butter with shallots, carrots,
blue cheese, wine and spinach, a very impressionable dish!
RAVIOLETTE OSWALDO 14.95
Small spinach ravioli stuffed with zucchini,, peas, carrots, spinach and potatoes, sauteed with a sweet potato sauce and asparagus.
SALMON PROFESSOR LEAKEY 17.95
Salmon sauteed in butter with leeks,, sun-dried tomatoes, herbs,
spices and asparagus. A very important discovery!
SCALLOPS FLORENTINE 16.00
Succulent scallops sauteed in butter with onions untill lightly brown
then covered with leafy spinach, mozzarella & romano cheese.
SCALLOPS PRIMAVERA 18.95
Scallops sauteed in olive oil, butter, and garlic with squash, brocolli,
string beans, tomatoes, parsley, spinach and romano cheese
served over fettucine.
SHRIMP P & B. 18.95
Shrimp sauteed in butter with pecans, bananas, fresh dill and
Galliano liquer. Very delicate & exciting special.
VEAL PICATTA 18.95
Veal sauteed in butter and garlic with mushrooms and a zesty
lemon brown saucd & mozzarella cheese.
SWORDFISH NUEVO 18.95
Sauteed in butter with new red potatoes,, artichoke, carrots and herbs
in a-delicate lemon sauce.
VEAL "THE WILD ONE" 18.95
Veal sauteed in butter with portabella & crimini mushrooms, leeks,
a pinch of cream and vermouth.
RAVIOLLETE BILLY 14.95
Small ravioli stuffed with goat cheese, sauteed with onions,
tomatoes, olives and spinach.
GRILLED MAHI 17.95
Mahi is a mild fish grilled with herbs and spices served with a vegetable.
RAVIOLLETE FRANKIE 14.95
Small raviollete pasta stuffed with smoked mozzeralla and
roasted chicken sauteed in butter with leekes, peas, asparagus
and romano cheese.
MAHI MARENGO 17.95
Mahi sauteed in olive oil with sweet peppers, onions, mushrooms,
garlic and a pinch of white wine.
BILLY BOB'S BEAN BURRITO 14.95
white flour tortilla filled with rice, chili beans, onions, peppers,
monterey jack cheese, topped with hot sauce and sour cream.
MAHI CAJUN 17.95
Mahi marinated in cajun spices then grilled and served with vegetables.




Served with salad or brown rice.

FALAFEL12.95
Ground chickpeas, fava beans, parsley and garlic blended: fried.

KIBBEE 13.95
Ground lamb mixed with cracked wheat; deep fried.

KAFTA 12.95
Ground lamb, onion, parsley and spices; char-broiled.

SHIS KABOB 13.95
CHICKEN SHAWARMA- GROUND CHICKEN MIXED WITH SHAWARMA SPICES, PARSLEY AND ONIONS, GRILLED 12.95 



Or ....Sample as an appetizer

VEGETARIAN COMBINATION 13.95
Falafel, salad, humus and tabuli.

MEAT COMBINATION 8.75
Kafta, kibbee, salad and humus.



Lettuce, tomato, parsley, feta, and seeds. 7.50

EVERY NIGHT MENU
Humus 4.50
Baba Ghanouj 4.50
HALF and HALF 4.50
Tabuli 5.95
Falafel Four Al 6.90


Feta Cheese 1.50
Chedder Cheese 1.75
Side of Tahini 1.50
Side of Brown Rice 3.00
Tabuli instead of salad 4.50

Soda
Natural Blue Sky Soda
Natural Juice
Poland Springs Selzer
Milk
Coffee / Tea
Herbal Tea
Cappuccino
Expresso